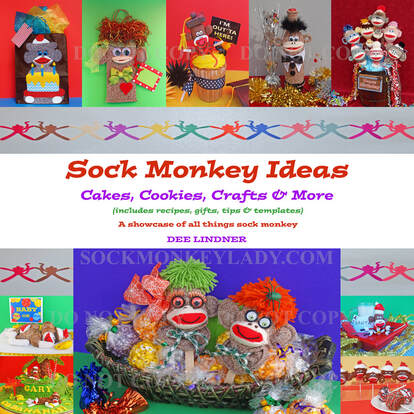 SOCK MONKEY IDEAS: Cakes, Cookies, Crafts & More
BOOK NOW AVAILABLE THROUGH AMAZON.COM

WELCOME TO THE
SOCKPENDOUS
WORLD OF
​SOCK MONKEYS

WHERE RED-HEEL
SOCK MONKEY ICONS
​FROM AMERICA'S PAST
​& PRESENT REIGN

"Think small and see only socks.

Think big and see a sock monkey.

Think larger than life and see a sole mate."
Sock Monkey Lady
---
BORN IN THE USA!

-MAKE OR BUY A SOCK MONKEY TODAY-


SOCK MONKEYS FOREVER!
---
About the Sock Monkey Lady's Products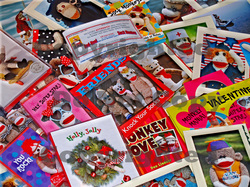 Sock monkey enthusiasts enjoy the Sock Monkey Lady's widely acclaimed and popular humor-filled sock monkey photography. Her sock monkey books "Monkey Love," "Friends Knock Your Socks Off," and "Sew Cute and Collectible Sock Monkeys," in addition to a line of sock monkey novelty items such as Sock Monkey Greeting Cards®, coloring and activity books, checkbooks, bookmarks, valentine fun packs, mini-journals, boxed holiday cards, note cards, gift enclosure cards, and more, are adorned with her sentimental sock monkey images.

Her sock monkey-themed creations are funny, cute, charming, and brimming with attitude. They are a perfect daily pick-me-up for anyone who needs a gentle dose of humor and kindness. Her work shows a profound appreciation for the art of simple things and engages one in the art of make believe, making one laugh. Join in the fun and share in an American-born tradition that is silly, fun, and outrageous!
---
Going, Going, Gone!
by A.N. Charles

If you like cozy mysteries, this is a favorite fun read with a sock monkey moment! A "whodunit" murder mixed with light romance equals a great page turner. Available through Amazon (link below).
---
---