The Nelson Knitting Company Legacy
Nelson Knitting Company, Rockford, Illinois, USA, originally trademarked the famous red-heel sock feature that charmed America.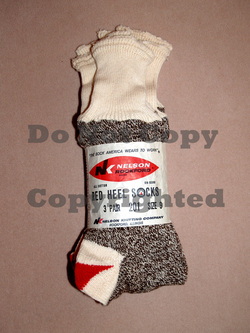 Nelson Knitting Company, formed in 1880, distributed their colorful red-heel socks to major retail stores, touting them as America's work socks. A whimsical crafter saw the shape of a sock monkey within the folds of these work socks, sewing one of the red-heels as the monkey's smile and the other red-heel as the monkey's bum. In the 1950's, the Nelson Knitting Company secured a patent for the sock monkey. The pattern to make the monkey was available shortly after.

Generations later, crafters continue the nostalgic tradition of fashioning hand-made red-heel sock monkeys. Adored for their unique one-of-a-kind characteristics, these pop culture soft-sculptured icons have made their way into hearts and homes, seemingly taking on personae of their own. Their intrinsic value makes them highly desirable and collectible.

Dee Lindner has voiced this wonderful legacy as the "red-heel sock monkey tradition." She has evolved this past time by immortalizing sock monkeys in action-oriented sock monkey-themed photography for generations to enjoy, whereby her efforts and products have stimulated interest in crafting and in the marketplace to "monkey around." She was instrumental in helping to make Rockford, Illinois, Home of the Sock Monkey through her efforts with the Midway Village Museum in Rockford. "Nelson," a gigantic red-heel sock monkey crafted by Dee and now resident at the museum, has been seen flying around the country.

In her photography, creations, and works, she captures the spirit behind these soft sculptured pals--parodying everyday happenstance in our own lives. Her latest book, "Sew Cute and Collectible Sock Monkeys," raises the monkey bar and aides crafters in breaking through creative barriers, and demonstrates how monkeys can be a part of family life and become invaluable sole mates.

Sock monkeys attract a diversity of people of all ages, classes, gender, and ethnicity, and are a great medium to bring people together regardless of cultural and social differences. Dee's vision to lay a platform from which one-of-a-kind sock monkeys of an individualized and personalized nature can be regularly created singularly or jointly by individuals in educational and non-profit institutions for the good of their communities is realized with the publishing of her craft book "Sew Cute and Collectible Sock Monkeys."

To the delight of sock monkey enthusiasts, the popularity of the red-heel sock monkey tradition continues to grow as these unique hand-crafted creations sockitize the world with their whimsy. Today, red-heel sock monkeys are immortalized in a plethora of products--books, clothing, jewelry, figurines, toys, art, stationery, home decor, confectioneries, and more.













---