Dee Lindner: Award-Winning Photographer, Writer, Crafter & Collector

Award-winning photographer, Dee Lindner, known as the "Sock Monkey Lady," shares a passion with millions of others for America's celebrated red-heel sock monkeys. A sock monkey enthusiast, crafter, and collector, she aspires to capture the spirit of the sock monkey for all to enjoy through her camera lens, in her writing, and in her sock monkey novelty items.

| | |
| --- | --- |
| The Sock Monkey Lady kindles interest in the red-heel sock monkey tradition through media and her sock monkey novelty products. She has shared her passion for red-heel sock monkeys on radio, and her sock monkey creations and monkeys from her collection have been televised on the Carol Duvall show and news channels. They have graced the Pottery Barn for Kids Catalog, Country Woman and other national magazines, syndicated newspapers, museums, and storefront window displays. Her sock monkeys have also been gifted to celebrities and prominent citizens and have been used as inspirational prototypes for gigantic sock monkey molds. | |
One of the Sock Monkey lady's remarkable hand-made super-sized creations, "Nelson," is a 7'2" red-heel sock monkey with a life of his own. Created from multiple red-heel socks, he has flown around the nation and often makes the news! "Stumpy," created from 59 red-heel socks, is one of her latest super-sized creations. This 7'7" red-heel sock monkey brings special delight to sock monkey enthusiasts. (Check with the Sock Monkey Lady to see if other's are available for ordering from her studio.)

Sock monkey enthusiasts enjoy the Sock Monkey Lady's widely acclaimed and popular humor-filled sock monkey photography. Dee's Sock Monkey Greeting Cards®, published sock monkey-themed gift books, in addition to a line of sock monkey novelty items such as checkbooks, bookmarks, valentine fun packs, journals, boxed holiday cards, note cards, and gift enclosure cards to name a few, have been adorned with her sentimental sock monkey images. Her sock monkey-themed creations are funny, cute, charming, and brimming with attitude and the perfect daily pick-me-up for anyone who needs a gentle dose of humor and kindness.

Dee aspires to share the pleasure that making these creations brings to her with others. Her products have reached an international audience and are available for shipment worldwide. Her unique action-oriented sock monkey images have been available on the Internet and in bookstores, galleries, gift shops, coffee shops, medical centers, museums, restaurants, and through her Products page link. Licensing and publishing inquiries are welcome. Dee can be contacted via the electronic Licensing Contact Form link.

The Sock Monkey Lady's creations are meant to bring luck and goodwill to all. Your smile is a symbol of her success!
This Month's Feature From the Sock Monkey Lady's Personal Scrapbook

FAVORITE BOOKS:


The 12 Days of Christmas: Chicago 1934
A zany madcap mystery, starring Nick Verriet, Private Investigator


by Nicolas D. Charles




Nick Verriet's Christmas: Chicago 1935
Back by popular demand, Nick Verriet is back!

by Nicolas D. Charles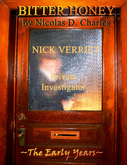 Bitter Honey: The Early Years
P. I. Nick Verriet wasn't always a happy, go lucky guy as depicted in "The 12 Days of
Christmas: Chicago 1934" and "Nick Verriet's Christmas: Chicago 1935."
Bitter Honey will have you on edge as his life in the 1920s unfolds.

by Nicolas D. Charles

---
---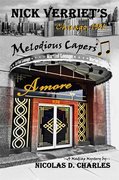 Nick Verriet's Melodious Capers: Chicago, 1936
Chicago, 1936--the hits keep on coming and they're not only on the radio. Join Private
Investigator Nick Verriet as songs, bullets, and damsels have him hitting high notes. Nick
tackles his ten wildest cases yet, and the crème de la crème comes when he finally lands
a case that should put him on easy street.

by Nicolas D. Charles

A SOCK MONKEY MOMENT OCCURS IN ONE OF NICK'S CASES!


---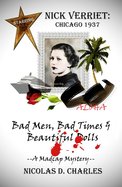 Nick Verriet: Chicago 1937
Join Chicago's most famous Depression era roué, Private Investigator Nick Verriet, as he
embarks on six of the zaniest cases of his career. The author, Nicolas D. Charles,
guarantees Nick's up to his usual hijinks ferreting out foes and friends while fending off a
frenzy of frails.

by Nicolas D. Charles


---
FAVORITE QUOTE OF THE MONTH:

"A successful man is one who can lay a firm foundation with the bricks others have thrown at him."

David Brinkley